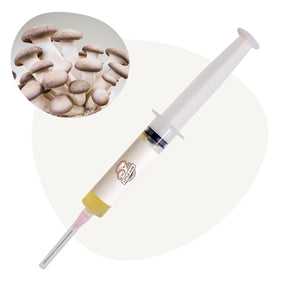 Black Pearl King Mushroom Liquid Culture Syringe
Inoculating sterilised grain with mycelium culture
Liquid culture is mycelium suspended in a nutrient-rich syrup. The mycelium is alive and growing.
Our liquid cultures are made on Little Acre's in-house recipe and are quality tested to assure vigorous mycelial growth and zero contamination.
Using liquid cultures is a simple technique for inoculating and making your own mushroom grain spawn in bags or jars. We do not recommend trying to inoculate bulk substrate with liquid culture. You should always go from liquid culture to sterilised grain.
Package contains:
a syringe containing 20mL of Black Pearl King Mushroom liquid culture

a sterile 18 gauge needle

an alcohol wipe

comes in a sealed plastic sleeve
For best results, always refrigerate your liquid cultures upon receiving them and store them in the fridge.
Shake well before use.
Always handle using sterile techniques and we highly recommend inoculating in either a still air box or in front of a flow hood to reduce the chance of contamination. If you plan to re-use the needle, sterilise before and after each use. To inoculate your sterilised grain, the syringe should be inserted into a self-healing injection port.
Refrigerate upon receiving and store in the fridge until ready to use. Use within two months for best results.
We strongly recommend shipping liquid cultures via Express Post as mycelium is extremely sensitive to temperature changes and transport conditions.
Dispatch
We ship orders Monday to Thursday. We do not ship on Fridays to avoid it being in transit over weekends due to its heat sensitve nature. Any orders placed on Thursday after 12pm or Friday will be dispatched the following Monday.
Please note this applies to all orders, including Express Post shipments.
PLEASE NOTE: Orders placed between Friday 22 Dec – Monday 1 Jan (inclusive) will ship from Tuesday 2 January.
Standard dispatch and shipping will resume from Tuesday 2 January, 2024.
Christmas shipping
Please get your orders in as soon as possible to ensure they have plenty of time to arrive. Here are the Australia Post cut offs:  
Metro areas excluding WA and NT*:
Parcel Post: Monday 18 December – order by Sunday 17 December
Express Post: Thursday 21 December – order by Wednesday 20 December
WA and NT*:
Parcel Post: Thursday 14 December – order by Wednesday 13 December
Express Post: Wednesday 20 December – order by Tuesday 19 December.
*Please note: The dates provided above are for items posted to metro locations. If you're sending to outside a metro area, we recommend posting even earlier.
Click & Collect orders
Pick up your order from the Little Acre warehouse in Geebung, on Brisbane's northside. Pick up is free - simply select 'Pick up' at checkout.
Pick up is available Monday to Friday, between 8:00am - 3:30pm.  
Closure
Click and Collect will be available until 3:00pm Thursday 21 Dec – order by 12pm Wednesday 20 December.
Orders placed between Thursday 21 Dec – Monday 1 Jan (inclusive) will be available for collection from Tuesday 2 January.
As always, please wait for your confirmation email before coming to collect. Thank you!
Tracking information
Once your order has been shipped, you'll receive an email with your tracking link so you can stay up to date with where your order is at.
Delivery times
Delivery times are tricky to provide these days. You'll be able to check your unique delivery estimate provided by Australia Post via the tracking link in your email with the subject "Your order has been shipped!". 
Shipping costs
Orders under $45
Standard Shipping via Australia Post - $10.20
Express Shipping via Australia Post - $14.20
Orders $45 and over 
Standard Shipping via Australia Post - flat rate $14.20*
Express Shipping via Australia Post - flat rate $18.20*
(*This does not apply to bulk growing supplies.)
Shipping destinations
We ship Australia-wide. We currently do not offer international shipping, sorry team!