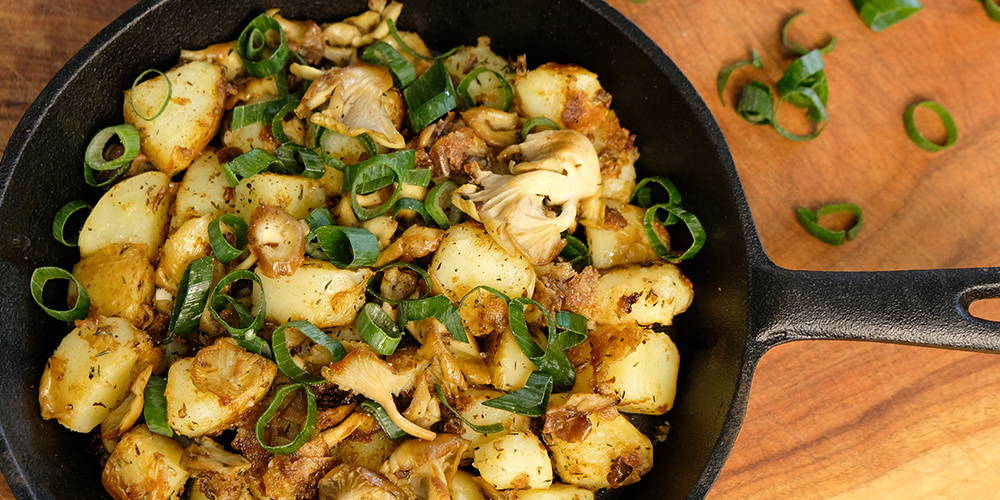 This frites recipe is perfectly complemented by the gold oyster mushroom's delicious nutty flavour.
---
---
4 medium sized potatoes
Olive oil
1 garlic clove, diced
1 tsp dried rosemary
Roughly chopped gold oyster mushroom cluster
1 tbsp butter
1/4 cup finely chopped spring onions
Salt and pepper
Step 1
Cube the potatoes and add to a pot of boiling water.
Boil until just cooked through.
Step 2
Heat a large frying pan over high heat, add a
lug of olive oil. Roughly chop the cluster of gold
oysters, add to the pan along with the diced garlic.
Step 3
Fry the mushrooms until crispy, golden brown. Once
cooked, remove them from the heat and set aside.
Step 4
Drain the potatoes, place back into the pot. Put a lid
on the pot and, holding the lid closed, give the pot a
quick shake to roughen up the edges of the potatoes.
Step 5
Reheat the frying pan on high heat and add a lug of
olive oil and a tablespoon of butter. Add the potatoes
and turn occasionally until golden brown and crispy.
Step 6
Sprinkle a teaspoon of dried rosemary and season
with salt and pepper. Add the fried mushrooms
and garlic, stir through and top with spring onions.
Serve in the pan as a dish to share.
1 bunch of bok choy
Oyster mushrooms, leave small mushrooms whole or tear into pieces
3 spring onions, chopped
Peanut oil
Sesame oil
1L of vegetable or chicken stock
1/4 cup of honey
2 Tbsp soy sauce
Ramen noodles
Boiled egg, sliced
Step 1
Heat the oils on high in a wok or deep pan. Sauté mushrooms and chopped spring onions for a couple of minutes.
Step 2
Meanwhile, boil water in a large pot. Add ramen noodles to the boiling water and cook following packet instructions.
Step 3
Lower the heat and add stock to the mushroom and spring onion mix, stir while adding soy sauce and honey.
Step 4
Bring to a simmer and taste as you go, adding extra soy or honey to your preference.
Step 5
Stir through chopped bok choy (or any garden veges) and simmer for 2 minutes until lightly cooked.
Step 6
Drain noodles and add into individual bowls then portion the broth over the noodles.
Step 7
Place your egg on top and garnish with chopped coriander and sesame seeds.